Quick and easy to make all natural mist to tame frizzy and dry hair, that will make your hair shiny, soft and moisturized throughout the day.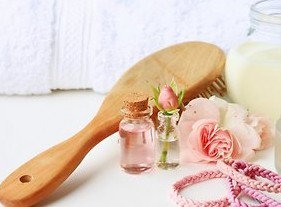 -1 tablespoons Organic Raw Virgin Coconut Oil
;
-1 cup Organic Rose Water
;
-5-10 drops Vitamin E Oil
.
Mix all the ingredients in an empty spray bottle

. Shake well and mist it all over your hair. You can use the spray on dry, wet or slightly damp hair.
Coconut oil moisturizes and softens dry hair, while acting as a natural barrier to help to prevent hair breakage and split ends and protect it from further damage. It helps to hydrate and nourish the hair deeply and add shine to it, while eliminating frizz and keeping your hair moisturized and silky.
Rose water will deeply condition your hair and treat them with complete moisturizing effect. It can also help improve blood circulation and prevent hair loss, thereby strengthening and nourishing hair follicles, revitalizing your hair and adding healthy shine to it.
Vitamin E has antioxidant properties which help to improve the quality and texture of the hair, promote its strong and healthy growth and even prevent its premature graying. It also deeply conditions the hair from root to end to make it shinier, healthier and stronger.