Face mist is a great way to freshen up your tired skin especially on those hot summer days. Use those simple ingredients to make your own green tea face mist and keep your skin hydrated, glowing and refreshed throughout the day.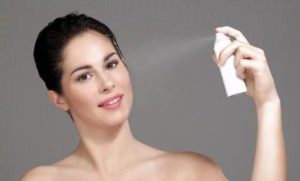 -1 green tea bag;
-3 drops of Vitamin E oil
;
-3 drops of Pomegranate seed essential oil
;
– spray Bottle
.
Boil water and soak tea bag in it for 10 minutes. Fill half a spray bottle with tea and let it cool. Add mineral or clean filtered water to fill the bottle. Drop in essential oil and Vitamin E.  Shake well before use. Keep in the fridge for later use.
Green tea is packed with vitamins and minerals which help to improve your skin complexion and elasticity.  It gives you skin nice healthy glow and keeps your skin nourished and hydrated. The antioxidants in green tea can help delay the signs of skin aging and work as a natural UV protector.
Vitamin E benefits your skin's appearance and texture and can help you to get a younger looking face. It helps reduce dryness and hydrate your skin and will maintain its elasticity, which thereby reduce the depth and length of facial lines and wrinkles
Pomegranate seed essential oil penetrates deeply into the skin, creating healthy long lasting moisture. Due to its antioxidants properties this oil helps to revive and regenerate your skin, improve its texture and fight the signs of ageing.