Suffering from split ends and dry hair? Bounce your dull hair back to life with this all-natural easy hair mask, and restore the beauty of your hair.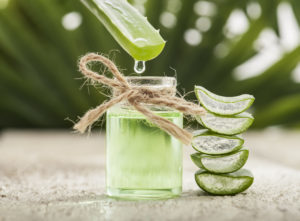 -4-5 tablespoons Aloe Vera Gel
;
-3 tablespoons of Organic Raw Virgin Coconut Oil
;
-2 tablespoons of  Raw Organic Honey
.
Mix everything well and apply the mask all over your hair. Keep the mask on for 20-30 minutes and then wash off with warm water and soft shampoo.
Aloe Vera gel rejuvenates the hair with its own nutrients, which helps repair your hair and prevent its breakage.  It also acts like a great conditioner and infuses your hair with moisture, leaving it smooth and shiny.
Coconut oil moisturizes and softens dry hair and helps to prevent hair breakage and split ends. It helps to hydrate and nourish the hair deeply and add shine to it, while eliminating frizz and keep your hair moisturized and silky.
Honey improves the health of the hair and the scalp at the same time. It has restorative properties and tends to prevent the loss of moisture from your hair follicles and roots, making your lifeless hair smooth and glowing.