What can be better than a relaxing foot bath for your tired feet after a busy day? Try this relaxing foot soak to take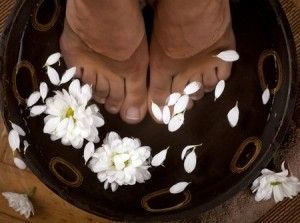 the weight off those tired, aching feet and soften dry, cracked skin.
-1/2 cup Epsom Salt
-1/2 cup Chamomile Flowers
;
-1 tablespoon of baking soda;
-5 drops of Rosemary Essential Oil
.
Take a large bowl or container big enough to fit both of your feet. Fill 1/3 of it with freshly boiled water and steep chamomile flowers in it for about 5 minutes. Add the remaining ingredients to the bowl mix well and add the same amount of comfortably hot water. Soak feet for 20-25 minutes or until water begins to cool.
Epsom salt cleanses and draws out toxins from your body, eases muscle tension, pain and stiffness. Epsom salt has anti-fungal and anti-bacterial properties and can also help to treat foot odors and various fungal conditions. While your feet are absorbing the minerals from the salt it helps to improve circulatory system and nerve function.
Chamomile flowers have anti-inflammatory properties, calming effect and relaxing aroma. It can also help to heal dry and damaged skin and moisturize your feet.
Baking soda can help regulate your skin's PH level, sooth irritated skin, refresh, renew and soften dry and cracked skin. It is also extremely effective in treating foot odor.
Rosemary essential oil helps to stimulate the circulatory system and ease muscle soreness, cramps and tension. It will sooth, refresh and revitalize your aching feet