An easy to make face mask, that will help you to get back soft and youthful skin and fight first signs of ageing.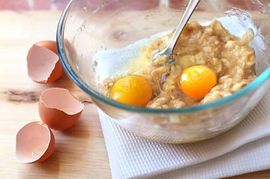 -1 egg yolk;
-1/2 mashed banana (use a ripe banana, because it is easier to mash it with a fork);
-1 tablespoon olive oil;
-3-5 drops Vitamin E Oil
Mix all together until blended. Spread over your face and leave for 15-20 minutes. Rinse off with warm water and pat dry.
Egg yolk helps to slow down the aging process and helps to keep your skin healthy. The vitamins and minerals it contains get transferred to your skin and help it look and feel healthier. Egg yolk locks moisture into dry skin cells, leaving your skin feeling soft, smooth and rejuvenated.
Banana helps to repair damaged, dull and dry skin. It will moisturize the skin leaving it hydrated and soft. It also contains anti-oxidants that fight off free radicals which help to slow down skin's aging and minimize the wrinkles.
Olive oil heals dehydrated skin by locking moisture into your skin cells. It is rich in Vitamin A and Vitamin E that give your skin natural, healthy glow and a youthful appearance.
Vitamin E benefits your skin's appearance and texture and can help you to get a younger looking face. It helps reduce dryness and hydrate your skin and will maintain its elasticity, which thereby reduce the depth and length of facial lines and wrinkles
.