Enjoy those summer days on the beach and don't forget to apply some sun block, but if you do here is a great sunburn relief spray that can easily help you heal your skin.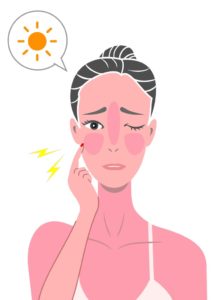 -1 cup green tea(chilled);
-1 cup Aloe Vera Juice
;
-1 tablespoon Vitamin E oil
;
-5 drops Peppermint Essential Oil
.
Combine all the ingredients in a large spray bottle. Shake well before use. Spray on skin for soothing and cooling effect. Store in the refrigerator when not in use.
Green tea contains powerful anti-oxidants; tannic acid and catechin that neutralize free radicals and protect the skin against damage from harmful UV radiation and help prevent skin cancer. Green tea will help also to reduce inflammation and redness.
Aloe Vera juice will help to repair your skin after the sunburn, reduce the redness and soothe the irritation. In addition, it will help you to avoid peeling after the sun damage and keep your skin well moisturized, smooth and healthy.
Vitamin E oil helps your skin heal faster by retaining its natural moisture content.  It will hydrate your skin and reduce its redness and dryness and improve its texture and maintain its elasticity.
Peppermint essential oil will help soothe and cool the burnt area and relieve the pain due to its natural analgesic properties.