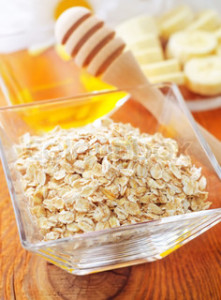 This is an easy to make two in one beauty product – it's half an exfoliating face scrub and half a soothing face mask.
-1/2 of banana mashed;
-1/4 oats;
-1 tablespoon Organic raw honey
;
-3 drops of Patchouli Essential Oil
.
Mix all the ingredients together and spread all over your face. Let it sit for 10-15 minutes and wash off with warm water. Pat dry your face.
Bananas have anti-bacterial properties and are rich in potassium, which will help to suffocate the bacteria and heel the blemishes faster. They also contain anti-oxidants, which fight off free radicals to help you slow aging and minimize the wrinkles.
Honey will help to reduce impurities by bringing antibacterial and antiseptic affect. . At the same time it is a very effective moisturizer, it retains moisture making your skin radiant, soft and supple. It also helps to fight against skin damage and slow down the ageing process.
Oats will help to gently remove dead skin cells and open the pores. It will also absorb excess oil from your skin's surface and can help to minimize the development of blackheads.
Patchouli essential oil is used in skin care for its ability to help reduce such issues as inflammation, irritated skin and acne-prone conditions. It is also known for its cell-rejuvenating and anti-aging properties.